Micron's "peel & stick" microneedle patch is applied simply by pressing it against the skin, like a BAND-AID®. This simple and minimally-invasive approach eliminates pain and fear associated with injections and allows for self-administration with little to no training.
Upon application of the patch to the skin, microneedles painlessly penetrate the upper layers of skin and dissolve rapidly, thereby releasing their drug(s) or vaccine(s). After a few minutes, the patch is removed from the skin.  Because the microneedles dissolve in the skin, there is no sharps waste.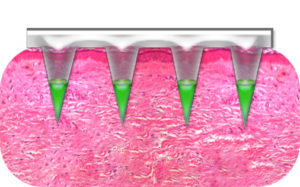 Patch is applied to skin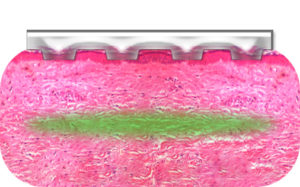 Microneedles disolve and release their active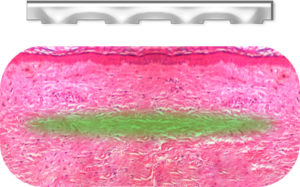 Sharps-free backing is removed and discarded
By delivering medicines into the outer layers of skin, the microneedle patch targets dermal immune system cells, which has been shown to elicit enhanced immune responses and dose sparing when vaccines are delivered by microneedle patch.  Also, the microneedle patch targets blood capillaries just below the epidermis, which has been shown to enhance the pharmacokinetic and pharmacodynamics effects of certain drugs.
Because the microneedles penetrate only the upper layers of skin, they do not reach the deeper nerve endings, which makes Micron's microneedle patch painless.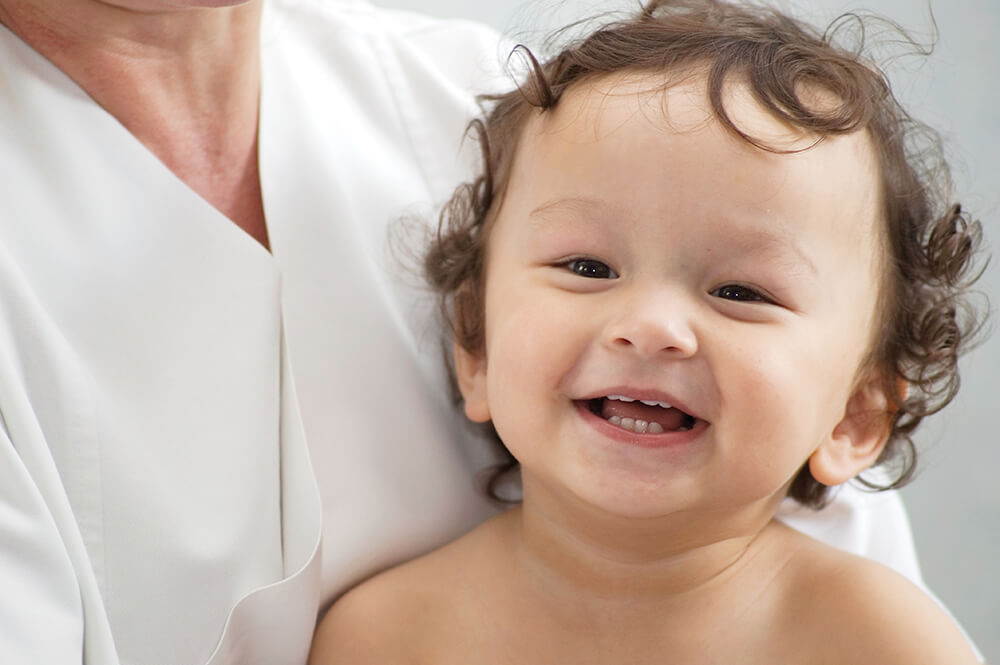 Micron's proprietary formulation and manufacturing processes have been shown to provide thermostability to encapsulated drugs and other actives, thereby allowing for reduction and sometimes elimination of the cold chain.
Microneedle patches are suitable for a wide range of active (therapeutics and vaccines) and inactive compounds including small molecule, nucleic acids, peptides, proteins, and micro/nano-particles.
Micron develops pharmaceutical products, based on its microneedle patch technology, that are designed to provide enhanced protective (vaccine) and therapeutic (drugs) effects, superior patient compliance, and simplified administration, distribution, and storage logistics.
(GLOBE NEWSWIRE) — Using microneedle patch technology under development at Micron Biomedical, Inc. (Micron), a Phase 1 clinical trial showed that vaccination by microneedle patch was as safe and at least as immunogenic as vaccination with standard needle and syringe. The trial was carried out by the Georgia Institute of Technology (Georgia Tech) and the…
ATLANTA, June 19, 2017 – UNICEF awards funding to support to work of Micron Biomedical, Inc. to develop cGMP manufacturing for a measles-rubella (MR) vaccine microneedle patch, to design and support pre-clinical studies, and to develop the regulatory strategy, including IND preparation, to support a future Phase 1/2a clinical trial and, ultimately, to obtain licensure…
ATLANTA, April 12, 2017 – Micron Biomedical, Inc. was selected by NIH to participate in the BIO 2017 conference in San Diego, CA, June 19-22, 2017 and to exhibit in the Innovation Zone, an exhibit space dedicated to showcasing a small number of NIH SBIR/STTR awardees.  Micron was also selected to give a presentation on…